Configure fuse and distribution box surface-mounted individually
In addition to the high quality, the modern designs and the numerous application possibilities of our surface-mounted distributors, we attach great importance to expertise and advice. In our shop you will not only receive components for safe and modern electrical installation and sub-distribution.
Our experts will be happy to advise you on the individual configuration of your distribution box for surface mounting. We take into account the special requirements of the local conditions such as temperatures, the required impact resistance and protection class, as well as the modules to be installed in your area of application.
numerous types of protection
Sizes
a wide range of accessories such as safety locks, integrated sockets, terminals, busbars and glands
Our surface mounted fuse boxes
Protection class IP65
Surface-mounted damp room distributor
Transparent door
4-36 Modules
PE&N connection terminals
Optional safety lock
Protection class IP 40
Surface mounted distribution box
white or transparent door
12-42 modules
PE&N connection terminals
Optional safety lock
Protection class IP40
Surface mounted distribution box
white or transparent door
8-54 modules
PE&N connection terminals
Optional safety lock
Protection class IP30
Surface mounted distribution box
Without door, open construction
2-42 modules
PE&N connection terminals
Protective covers modules
AP small distributors & sub-distributors - numerous sizes
A decisive factor for the selection of the right fuse box is the size and number of PD (division units / 1 PD = 17.5 millimetres). Depending on whether you want to use the surface-mounted distributors as small distributors or for larger sub-distribution. For this reason, you can choose the right model from various sizes. Depending on how many modules such as fuses and RCDs you want to install on the individual mounting rails (also called top-hat rails). 1 TE usually corresponds to one switch or one fuse.
Surface-mounted distributor in various sizes:
1 to 54 module places (TE) selectable
Surface-mounted distributor 1-row, 2-row, 3-row and 4-row
As standard, 12TE can be used per mounting rail, but more individual divisions are also possible.
Further adaptation options for surface-mounted distributors - Doors & accessories
In addition to the size and the modules that can be integrated per DIN rail, other factors are decisive. For example, you can choose from transparent or opaque doors in different colours and from materials such as polycarbonate (PC) and acrylonitrile butadiene styrene (ABS). Door hinges on both sides are also possible.
Surface-mounted distributors with transparent doors , for example, offer the advantage of allowing a quick and easy view of all the components installed inside. This is because many integrable fixtures have signal or warning lights, the status of which can thus be easily checked at a glance through the polycarbonate door without having to open the enclosure. It is particularly practical if it is also equipped with a safety lock. This is particularly advantageous for multimedia distributors, control cabinets or server cabinets. But it is also a quick and easy way to check the status of the fuses in the distribution box.
In addition, you can optionally choose from a wide range of accessories:
Security locks
Various screw connections (e.g. for pressure compensation, drainage, etc.)
Double terminals and various insulated PE & N terminals
Protective covers
Busbars
In this way, you can design a tailor-made surface-mounted distribution box for every area of application that meets the requirements for simple, safe and low-maintenance electrical installation.
In addition to the different enclosure series, we offer integrated solutions such as pre-assembled and machined enclosures, cable glands as well as cable bushings for various applications. Even for automation applications such as KNX systems, or if EMC-critical applications are involved, our trained and expert staff will provide you with comprehensive and competent advice.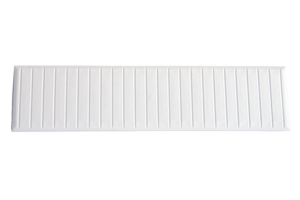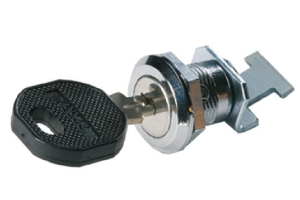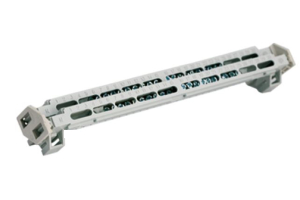 Insulated double terminal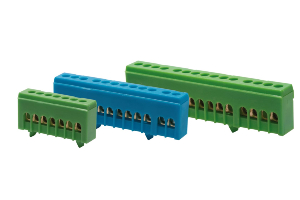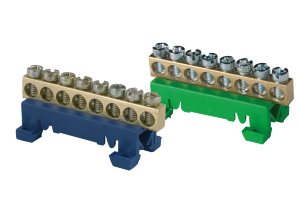 Terminals PE&N
for top-hat rail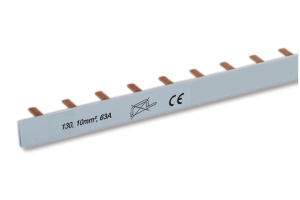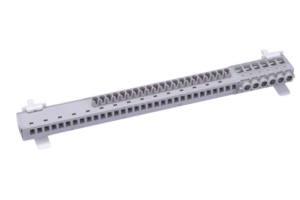 Insulated screwless terminal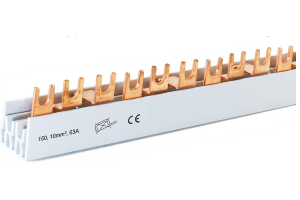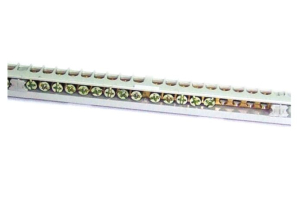 Insulated terminal Standard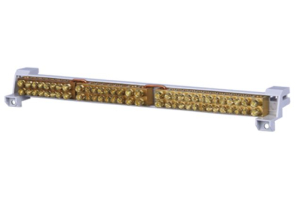 Insulated terminal
Australia Type
Scope of delivery & assembly of our surface-mounted distribution boxes
Our distribution boxes are delivered ready for use. In addition to detailed assembly instructions, the appropriate number of terminals (insulated standard screw terminal) and corresponding mounting rails are installed depending on the number of modules. All fastening screws are of course also included in the scope of delivery.
The PE & N plug-in terminals can be adapted on request. As optional accessories we offer double-row insulated terminal strips or screwless insulated terminal strips to ensure ease of installation.
Scope of delivery at a glance:
PE & N plug-in terminals ( quick-connect terminals)
Mounting rails
Cover
Fastening screws
Detailed assembly instructions
Transparent polycarbonate door or opaque ABS door
Sealing plug
Easy mounting and cable routing of the different series (H3)
The installation of small distribution boards and sub-distribution boards for power distribution is not something you want to spend a lot of time on in your day-to-day operations. Therefore, it is crucial to ensure flexibility, customizability and reliability while keeping assembly simple. For this purpose, the different series of our fuse boxes offer various advantages.
The
Multimedia distributor DISBOX-XA
has all the necessary pre-stamping for flexible cable routing, so that all cables can be fed directly into the distributor from the plaster. This allows a very tidy overall appearance without lateral cable entries. In addition, router brackets and Schuko sockets can be integrated as an option for a tidy overall appearance.
The
DISBOX-F Damp room distributor surface-mounted
have metric pre-stamping and, depending on the size, also pre-stamping for flange break-outs in the lower part of the housing. In this way, cable bushings or cable glands can be implemented in the surface-mounted distributor without any great effort, which decisively reduces the installation effort and also prevents damage to the housing wall, which could otherwise lead to chip formation. The existing metric pre-stamps are based on the housing type and size. In most cases, two different sizes can be broken out depending on requirements
The
DIXBOX-T surface-mounted distributor
can optionally be individualized with a door hinge on the left or on the right. In addition, they have various pre-stampings on the back in order to be able to insert flush-mounted or flush-mounted cables into the housing at the top or bottom accordingly. In this way, a completely "clean" cable routing can be realised, in which, apart from the fuse box, no other surface-mounted cables are visible.
For the safe and standard-compliant use of the distribution boxes, the possibility of unambiguous assignment of the installed components is of utmost importance. In our fuse and distribution boxes of all series, we provide clear labelling of all module mounting positions and also of the associated terminals. The cabling can thus be done much more easily and in a time-saving manner
Mounting rails for smaller sizes – For the smaller sizes (2-5 modules), the mounting rails are already integrated in the housing. We have already reproduced the shape of a TS35 mounting rail in the mould of the injection moulding tool and integrated it in the housing base. This means that the individual components can be snapped on and wired very easily.
Mounting rails for larger sizes – For the three larger enclosure sizes (12-54 modules), one or more mounting rails made of galvanized sheet steel are mounted and supplied accordingly. We only use the TS35 rail type
Installation options of various electrical modules:
Lighting transformers
Residual current circuit breaker (so-called FI circuit breaker)
Bell transformer
Circuit breaker
Circuit breakers (the typical fuse)
Fuses
Switch
v.m.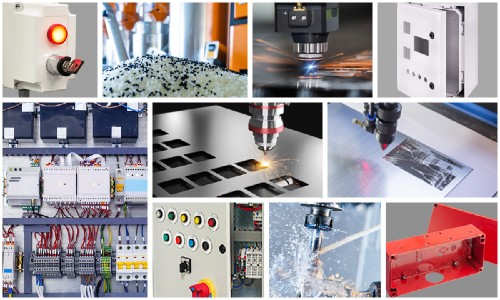 We design your Housing individual .
For all products we offer extensive customization and manufacture the products to fit your requirements and 100% compatible for your project.
Practical housing solutions for your application
The different enclosure series from BOXEXPERT are optimised for a wide range of applications. We support our customers for tailor-made solutions.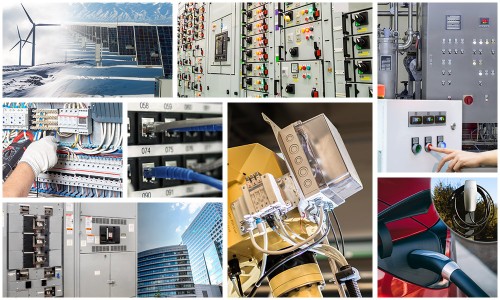 THE WAY TO AN INDIVIDUAL HOUSING
Where are AP fuse boxes particularly suitable?
Surface-mounted distributors (hood distributors) are suitable for storage rooms and dry rooms in the house, or as damp room distributors also for cellars, garages, gardens and outbuildings.
At the same time, surface-mounted distributors are of course not only installed in private households, but also in the industrial sector. Here we offer expertise for the individual configuration of the suitable housing for various application areas and functions.
Damp room distributors & more - different types of protection
In addition to surface-mounted distributors of protection class IP30 and IP40, we also offer so-called "damp room distributors".
Damp room distributors of protection class IP65
. The protection of the distribution box in damp rooms is ensured by our injected rubber seal.
The term "damp room" (more rarely wet room) describes:
Rooms with increased moisture load
Rooms with constantly high humidity
Rooms in which the relative humidity is permanently above 70%.
Rooms in which air humidity cannot be removed by free ventilation (e.g. open windows).
Rooms in which increased humidity occurs not only periodically
Rooms in which permanently increased humidity is to be expected due to use (e.g. bathrooms).
DISBOX-F
Multimedia distributor surface-mounted
Flush-mounted solution for smart home and network applications in modern design
Key data of our AP distributor range at a glance
Available colours: RAL 7035, RAL 9003
Available impact strength: IK07, IK08
Available protection classes: IP30, IP40, IP65
Approvals: OVE, CE, IEC 60670, ROHS, REACH
Glow wire test: 650°C
Materials: ABS, PC (UV-resistant and halogen-free)
Temperature resistance: -25°C to +60°C
Modules: 2 – 54 modules

Accessories and customization
In addition to the different enclosure series, BOXEXPERT offers integrated solutions such as pre-assembled and machined enclosures, cable glands and cable glands for various applications. Also for automation applications such as KNX systems, or if EMC-critical applications are involved, our trained and expert staff will provide you with comprehensive and competent advice.