Industrial enclosure made of plastic and aluminium for wall mounting
Whether for mounting buttons and operating elements or for protected wiring of electrical and electronic assemblies, there are various areas of application for industrial enclosures as empty enclosures in the industrial environment. They are used, for example, as control housings for construction machinery, or as medical technology housings for e.g. membrane keyboards.
The protection against contact and the external shielding of the internals of the industrial enclosures against dust and moisture play an overriding role. Therefore, the protection class of the door / cover and the enclosure are usually a decisive factor in the selection of the industrial enclosure. In addition, there are factors such as shape and dimensions, shock resistance, material and design that can influence the decision in favor of a particular industrial enclosure. In addition, some of our empty enclosures also have an additional powder coating, for example, and can thus be used as aluminium enclosures or plastic enclosures, especially for EMC-critical applications, while the focus of other industrial enclosures from our range is on simple assembly and time- and cost-efficient installation. The low-wear and weather-resistant seals provide protection against water, foreign bodies and extreme temperatures, so that the enclosures can also be used outdoors.
BOXEXPERT offers a wide range of industrial enclosures made of different materials such as plastic, aluminium and metal in various sizes and designs. These are also suitable for wall mounting as so-called wall-mounted enclosures and can be individually configured together with our experts for their respective area of application and prevailing environmental influences such as temperature and humidity.
Further areas of application
Installation of measurement and control technology
Pump control
Control housing in audio engineering
General protection of electronic and electrical components
Our industrial enclosures at a glance
Protection class IP 65
High quality design
Plastic housing
Various sizes
Self-forming screws included
UV resistance
Protection class IP 65
Grey or transparent lids
High quality plastic housing
Optional metric pre-stamping
Large housing cover
Various mounting domes
Protection class IP 66/67
Grey or transparent doors
Modular height concept
Optional Metric pre-stamping
Various mounting domes
Optimal use of space
Protection class IP 66/67/68
Shock resistance IK09
Die-cast aluminium
Integrated threaded holes
EMC basic protection
High quality optics
Protection class IP 66
Hinged cover screws
Grey or transparent lid
Lightweight
Weatherproof
Extensive accessories
Protection class IP 65
Grey or transparent lid
Lightweight
Allrounder
Weatherproof
Extensive accessories
In our shop you will also find various optional accessories such as safety locks for the latches, screw fittings, external hinges, mounting plates and mounting rails.
Depending on the series, the scope of delivery of the plastic and metal enclosures also includes the respective cover screws made of polyamide and or self-forming screws. The corresponding mounting screws for wall mounting and optionally installable mounting plates or mounting rails are also included and are adjusted accordingly to the length of the mounting domes inside the supplied empty enclosure. Depending on the series, grounding screws are sometimes also included in the scope of delivery.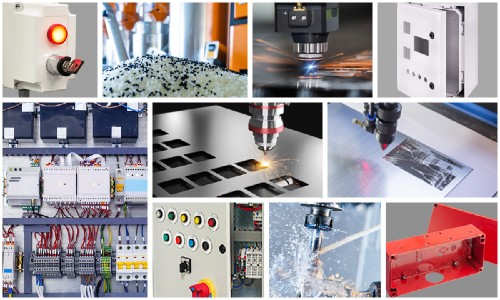 We design your Housing individual .
For all products we offer extensive customization and manufacture the products to fit your requirements and 100% compatible for your project.
Practical housing solutions for your application
The different enclosure series from BOXEXPERT are optimised for a wide range of applications. We support our customers for tailor-made solutions.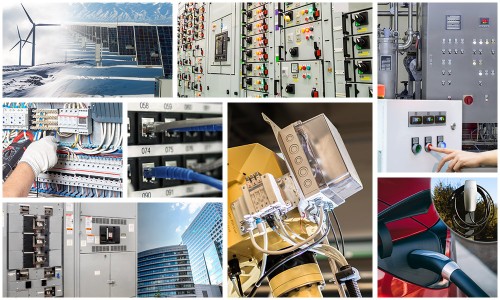 THE WAY TO AN INDIVIDUAL HOUSING
IP protection class - our empty housings are also suitable for outdoor use
Our industrial enclosures are available in the IP protection classes IP65, IP66, IP67 and IP68. They therefore always provide full protection against contact and ingress of dust (IP6X), as well as either protection against water j ets(IP65), protection against heavy water jets and temporary flooding (IP66), protection against temporary submersion (IP67) or protection against permanent submersion ( IP68). This means that all our empty housings can also be used outdoors without exception.
The respective protection class is realised, among other things, by an injected and circumferential seal made of polyurethane (PUR seal) . Thanks to this, our industrial enclosures are also suitable for all outdoor applications without exception. It prevents the ingress of water and dust in accordance with DIN EN 60529/DIN 40050. The foamed-in PUR seal is characterised by a high resistance to weathering and ageing and thus optimally complements the properties of the housing. Optional TPE seals (IP66/67) and neoprene seals are also available. The latter ensure, for example, a better temperature resistance of -40°C to max. +110°C.
A number of other tricks also help to ensure that the degree of protection is not negatively affected by further processing of the empty enclosure, or that it decreases over time due to wear. For example, the course of the seals deliberately omits the cover screws, which are thus located outside the area relevant for the degree of protection.
Pre-stamping, screws & co. - simple assembly, safe installation and reliable protection
In plant technology and mechanical engineering, enclosures usually have to withstand considerable external influences. Despite dust formation, moisture and external stress, the functionality of the internals must not be impaired. This protection must also be guaranteed after fastening and mounting the components inside. Screws and work on the housing , as well as the installation of fixtures such as pushbuttons, switches and other operating elements must therefore not negatively affect the degree of protection . Our various series of industrial enclosures each offer individual advantages and tricks, which not only enable easy assembly and flexible and safe installation of components, but also improve protection against contact and foreign bodies and water, as well as reducing wear and tear and producing minimal maintenance.
Below you will find an overview of the various designs and ideas that meet the requirements of a modern, safe and low-maintenance industrial enclosure.
Additional powder coating – insensitivity to UV radiation, making such enclosures suitable for outdoor use
Aluminium enclosures – robust aluminium enclosures are ideally suited to the high demands on impact resistance and protection class that industrial enclosures have to meet, especially in plant technology and mechanical engineering. Their material composition (AlSi 12, according to DIN EN 1706) is also ideally suited for EMC-critical applications. An additional EMC special coating, as well as optionally available from us
EMC cable glands
create a comprehensive basic protection for electromagnetic compatibility. These requirements must be met above all by industrial enclosures in the context of automation technology, so that interference currents can be dissipated via the enclosure wall.
Housing made of ABS plastic – If threads are cut, chips usually form, which in turn can remain unnoticed in the housing and over time can cause a short circuit in the built-in electrics. ABS as a material can prevent this when mounting electronic components
Self-forming screws – Self-forming screws also prevent chip formation. This enables simple and safe mounting of additional components without the need for any tools other than the screwdriver
Captive screws made of plastic – Industrial enclosures in particular, which are used for control components or as control cabinets, often contain devices that have to be maintained or tested at regular intervals. Self-tapping screws are not suitable here, as they would only be optimal for the first use. Reusable and captive plastic screws can be used as often as required and ensure that the screws are not lost during assembly or subsequent opening of the housing cover, even in problematic installation situations.
Integrated threaded holes – They enable the uncomplicated attachment of various fixtures. They allow top-hat rails and mounting plates to be fitted without the need for additional housing processing, which could otherwise result in chip formation or other negative effects on the degree of protection.
Overlapping joints – The overlapping has several positive effects: Optimal guidance of the components for easy assembly, additional protection against the ingress of water or dust and also the EMC properties of the housing, are positively influenced by the overlapping edges.
Metric pre-stamping for cable routing – If cables need to be routed out of the housing, holes are often required. We also offer these as special solutions. However, some industrial enclosures already have metric pre-stamping in the lower part of the enclosure, which makes it possible to fit cable bushings or cable glands in the enclosure with little effort. This significantly reduces the time and effort required to assemble and install components in the empty housing. In addition, this eliminates the need to drill additional holes that could otherwise damage the housing or cause chips to form. Depending on the housing type, different metric pre-stampings are available, often 2 different sizes can be broken out as required
Mounting domes for mounting plates – Mounting domes at the bottom of the enclosure allow a high number of mounting options and an optimal space utilization of the interior of our empty enclosures. Mounting plates, mounting rails or individual boards or brackets can be attached at various positions
Spring-groove principle – Here the cover fastening is outside the protective area, which has the advantage that you can fully use the complete interior of the empty housing and the risk of chip formation is minimized by fastening the cover screws.
Special earthing screws – The purpose of protective earthing of electrotechnical equipment is, in the event of an active (live) conductor terminating with a conductive, touchable part (e.g. the housing), to keep the latter at earth potential and thus prevent or at least reduce the flow of current through the (human) body to earth. Suitable earthing screws are supplied with some enclosure series and the correct symbols for connecting the protective earthing are marked on the base plate of the enclosure. The tightening torque of the grounding screw should be between 1.5Nm to max. for correct use. 2.7Nm lie
Industrial enclosures Alster - Aluminium enclosures for mechanical engineering & plant technology
Alster
Die-cast aluminium housing
Robust aluminium housing with high weather resistance
Optimal for EMC-critical applications
Special grounding screws included
All-round neoprene seal and external screw channels
Overlapping joints
Captive cover screws
Spring Groove Edge
Robust all-purpose housing for machine and plant construction
Optimal for smaller installations, as well as electromechanical assemblies and operating elements such as pushbuttons and membrane keyboards (e.g. as control enclosures or medical technology enclosures)
Industrial enclosure St. Pauli - cost-effective and fast assembly
St. Pauli
Installation housing
When things have to go fast
Multiple mounting options thanks to optimized housing base
Choice of grey or transparent lid
Available with or without pre-stamping for cable routing
Captive screws
Plastic industrial enclosure Michel - flexible height concept
Michel
High flexibility due to modern height concept
The industrial enclosure with modular height concept
With mounting domes for mounting plates
Self-forming screws
Cover in high gloss and without recesses
High quality optics
If enclosures are used as operating enclosures, for example, or if a membrane keypad or operating buttons are fitted, the visual appearance of the enclosure plays an overriding role.
Plastic housing Elbe with modern design
Elbe
Black design housing
High gloss surface for highest optical demands
Metric pre-stamping for cable routing
Captive screws
Grey or transparent lid in different heights
Most commercially available enclosures are constructed roughly according to the ratio 3:2:1 (L:W:H). While the housing dimensions usually meet a certain standard, your application rarely does. As an alternative to choosing a larger enclosure that may not fit the intended installation in terms of floor space, the Michel enclosure series offers a modular height concept. Different cover heights are available for the same base area in order to accommodate installations beyond the standard.
Mounting domes and screws for easy installation of mounting plates

Accessories and customization
In addition to the different enclosure series, BOXEXPERT offers integrated solutions such as pre-assembled and machined enclosures, cable glands and cable glands for various applications. Also for automation applications such as KNX systems, or if EMC-critical applications are involved, our trained and expert staff will provide you with comprehensive and competent advice.
Our empty enclosures made of plastic and aluminium at a glance
Available temperature resistance: -40°C to max. +110°C
Available materials: Aluminium, PC, ABS
Available IP protection classes: IP65, IP66, IP67 and IP68
Available impact strength: IK07, IK08 and IK09
Available colours: RAL 7001, RAL 7015 and RAL 7035
Approvals: CE, UL, ROHS, REACH
Flammability: UL94 HB and UL 746C 5″.
What should I pay attention to when installing the empty housing?
Industrial enclosures such as our wall and installation enclosures may only be machined and installed by skilled personnel
Before mounting and installing components in the empty enclosure, make absolutely sure that no current flows
Pay attention to manufacturer's information on IP protection class / degree of protection, operating temperature and material resistance.
In the case of surface installation on the wall or fastening on the floor, it is essential to take into account and strictly check the dimensional accuracy of the holes and threads so that the housing is not distorted.
Defective installation housings must be replaced immediately, as otherwise undesirable environmental influences and substances such as water or dust can damage electronic components.
How to recognize defective industrial enclosures: leaking lids, rusted screws, broken screw heads or porous seals between the lid and the bottom. Also look for mechanical defects such as visible cracks or holes