CABLE GLAND STAINLESS STEEL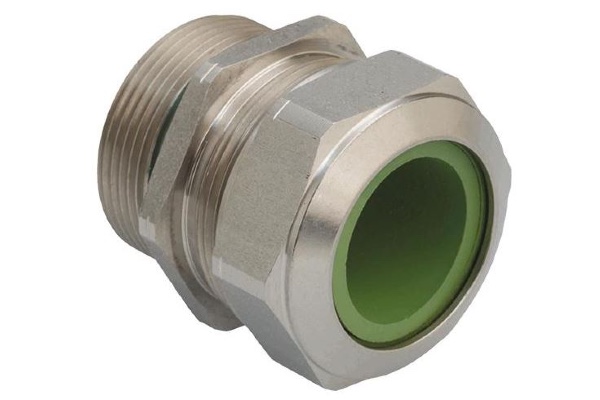 Stainless steel cable glands
Stainless steel is used in food environments or where high chemical resistance is required. In addition to Treva INOX enclosures, BOXEXPERT also offers A2/A4 steel cable glands. The clamping technique used is the compression technique, in which the compression nut presses the sealing insert all around the cable sheath. This ensures maximum impermeability to the ingress of dust and water. In the food environment, the sealing ring is also subject to high demands. The modular system for the cable glands allows the use of a sealing insert specially developed for the industry. In addition to the standard pressure nut, the modular system also offers the use of a particularly flat pressure nut. This convinces by the ultra-flat construction, because only the head of the cable gland looks out of the housing. All pockets, grooves or cavities are protected on the inside of the housing, preventing any build-up of dirt particles. The flat cable glands are characterised by excellent chemical resistance and have FDA conformity for the food industry.
BOXEXPERT does not see itself as a supplier of individual components, rather we are interested in a partnership at eye level, in which we advise our customers and support them in the development of an enclosure system. We will be happy to advise you on the overall system consisting of housing, electrical components and other accessories, taking into account your particular application.
Order number
Thread dimension
Clamping range
(MM)
Height upper part
(MM)
Thread length
(MM)
BKPEM8-25
M8x1.25
2.5-3.5
14
10
BKPEM8-35
M8x1.25
3.5-5.0
14
10
BKPEM10-30
M10x1.5
3.5-5.0
15
10
BKPEM10-40
M10x1.5
4.0-6.0
15
10
BKPEM12-35
M12x1.5
3.5-5.0
17
10
BKPEM12-50
M12x1.5
5.0-6.5
17
10
BKPEM12-65
M12x1.5
6.5-8.0
17
10
BKPEM16-80
M16x1.5
8.0-10.5
20
10
BKPEM20-110
M20x1.5
11.0-15.0
21
10
BKPEM25-160
M25x1.5
16.0-20.5
25
11
BKPEM32-210
M32x1.5
21.0-25.5
28
13
BKPEM40-285
M40x1.5
28.5-33.0
31
13
BKPEM50-370
M50x1.5
37.0-42.0
34
14
BKPEM63-460
M63x1.5
46.0-52.0
37
14
BOXEXPERT SUPPORT
You have questions?
Our employees are available for you via the chat and the contact form and are happy to answer all your questions.
[contact-form-7 id="3931" title="popup contact form"]
Follow us on our social media channels and get informed about new products.